Manual accounting is a thing of the past: save time and avoid errors with automated accounting!
Automated accounting
25. Juli 2022
Elisabeth Meyer
13 minutes reading time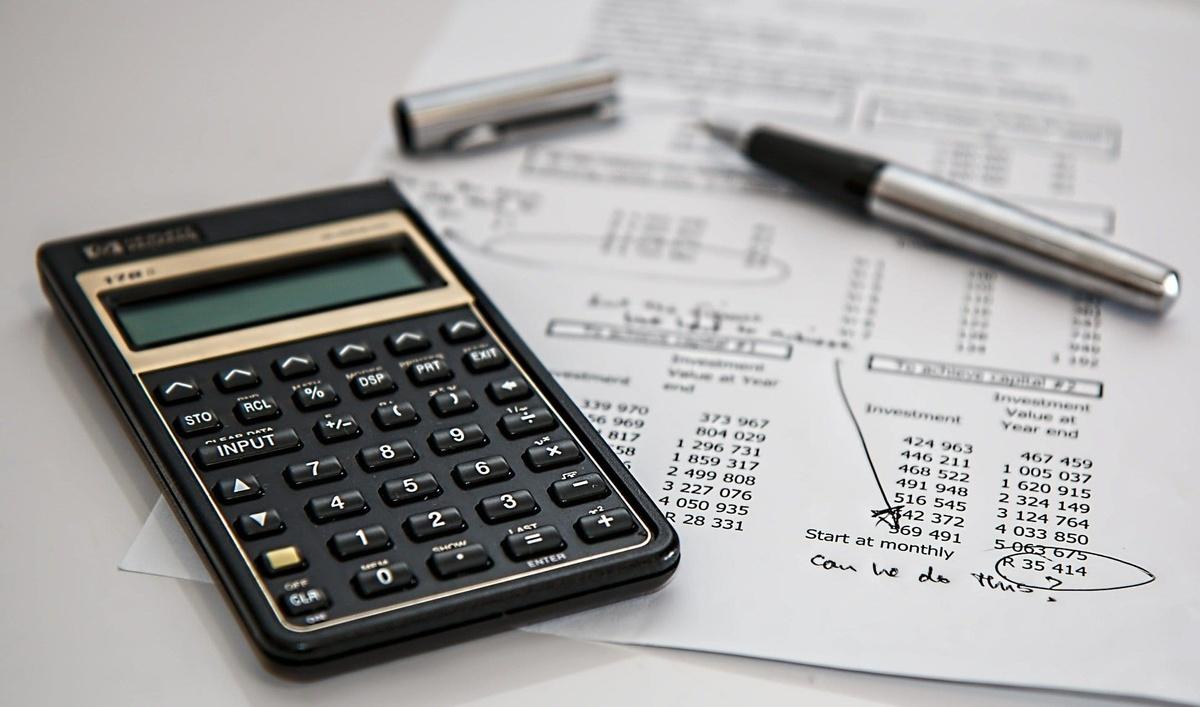 Accounting takes up valuable time, but it's essential for your company. Among other things, you need to book income and expenses, follow dunning processes and produce annual financial statements and balance sheets. Your bookkeeping also needs to be continually accurate and precise to ensure your company's legal compliance.
It sounds like a lot of work, doesn't it? If you do everything manually, it is! That's just one great reason to consider automated accounting. Find out what it can do and which software is the best fit for you here.
Automated accounting – the essentials
Avoid unpleasant surprises by establishing in advance which features of an automated accounting system suit your requirements. These will differ, of course, depending on, for instance, the size of your company. Nevertheless, a few basic factors are central to all good automated accounting software.
Invoices
Since one of the main focuses of accounting is to create and pay invoices, the software should be able to create, send and archive invoices accurately.
You should be able to digitize customer and supplier invoices to send via email. Your software interface should also process, forward, and post receipts directly, saving you crucial time and money!
Legal guidelines
Your accounting program should guarantee up-to-date compliance with legal and statutory requirements, so you can ensure that bookings and write-offs are legally correct.
Banking connectivity
Your software should be linked to all your bank accounts. It should automatically transfer payments on the correct date, so you can see at a glance which invoices have been paid and which are still outstanding.
Operating statistics
If you need to create statistics, evaluations, or profit and loss statements (P&L), automated accounting software will save you plenty of time. Access all your data, invoices, revenues, and expenses to display or compile as required. Cumbersome document searches and compilations are a thing of the past!
Sales tax
Collecting all your payment data manually for your tax returns takes time and effort. Use digital accounting software to access all the relevant figures; you can even use the interface to forward advance tax returns directly to the tax office!
The tax advisor
Automated accounting makes communicating and working with your tax advisor much easier. A good software interface allows you to share data with your advisor easily and directly. They can get on with their job, while you get more time to do the important things!
Why you should automate your accounting
Automated accounting benefits you, your business and your employees by providing:
Enormous time savings, due to automated processes.

Up-to-the-minute analysis, reports and reminders.

Lower personnel costs, due to reduced staffing needs.

Fewer errors and fewer corrections.

Savings on materials like paper, printer costs and folders.

Happier staff, due to the automation of time-consuming, monotonous tasks.
There are always a few hurdles to overcome when you introduce accounting software to your business. In the beginning, you'll need to train your staff in order to familiarize them with the new processes. However, once your employees are comfortable with procedures like entering and scanning receipts, you can take full advantage of automated accounting!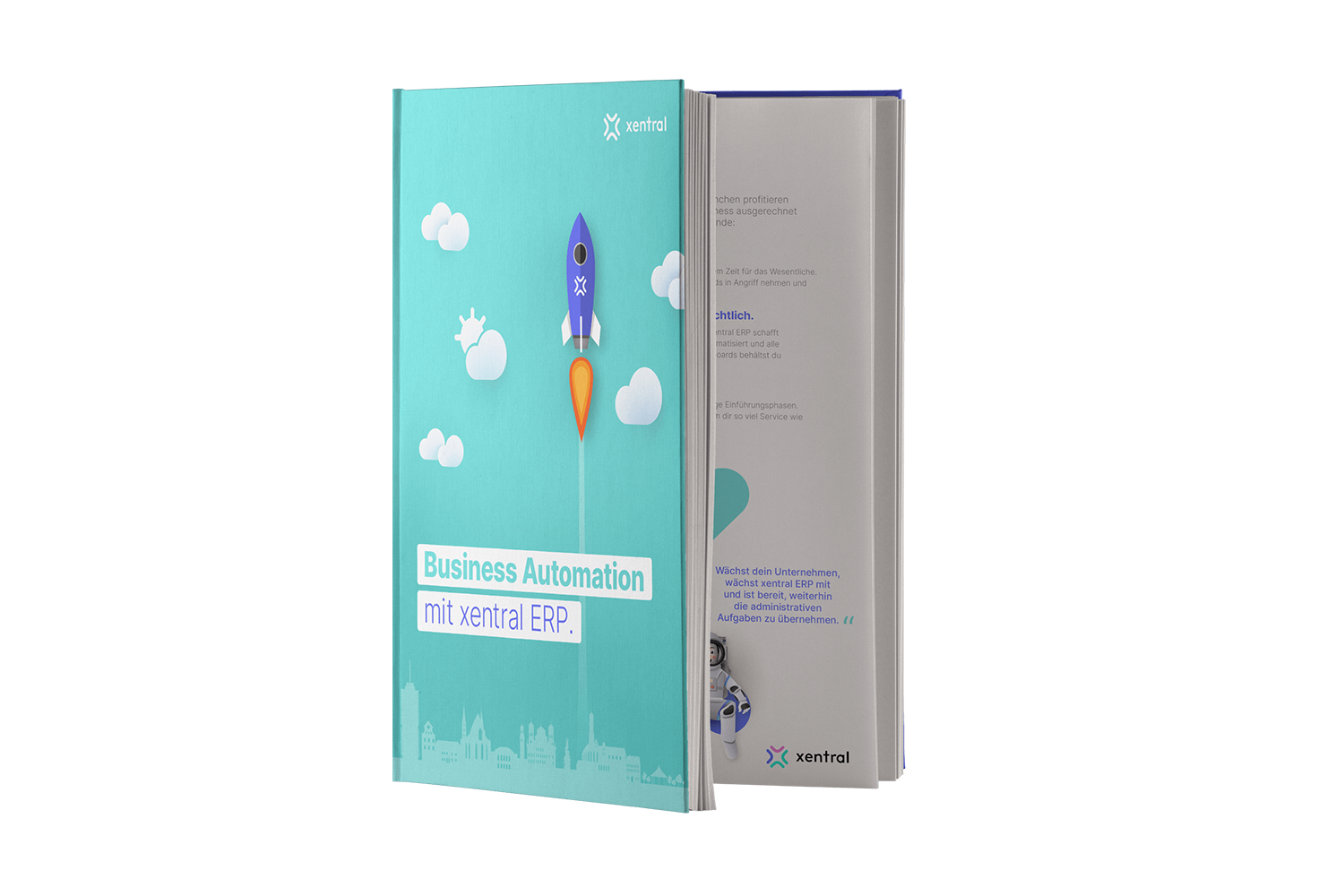 eBook: Business Automation with xentral
In this eBook, you'll learn:
How to use Xentral to grow your business and take it to the next level

What top features and interfaces Xentral offers you to manage your business holistically and smartly
Download now
How to automate your accounting
There are 5 crucial steps to follow if you want to automate your accounting:
Define your strategy.

Prepare your infrastructure.

Select your accounting software.

Motivate and upskill your staff.

Finalize the implementation of the new software.
First, determine the exact strategy you're going to follow.
Ask yourself:
Who is responsible for accounting?

Which processes do you want to automate?

What are your goals?

Which accounting software is suitable for you?
Aim to involve your chosen service provider in the technical implementation of your new software. That way, you can make sure it's tailored perfectly to the needs of your company.
Involve your employees by familiarizing them with the new software from the start. The less time you need to spend on training them, the more time and money you can save your company!
Inform your customers that you're using the new software; they'll need to agree to receive digital invoices via email. As a final step, aim to fix any problems or bugs during a test phase.
Then you're good to go.
Automated accounting integrated directly into your ERP software!
If you're interested in software that incorporates other business processes as well as accounting, ERP software is the right solution for you!
ERP stands for Enterprise Resource Planning and means that the software supports your company in other organizational and administrative tasks alongside accounting.
Here's how automated accounting as part of ERP software can help your business: welcome to Xentral
xentral is an ERP software that's suitable for start-ups as well as for SMEs and mid-sized companies. Even large companies can benefit from using us as their software provider, because our lean structure means you can decide for yourself which functions you need and which you don't – so no additional bells and whistles to slow you down!
xentral has its own accounting functions, which are situated under our Finance & Control umbrella.
The three main functions offered by Xentral are Multi-Currency, Accounting Professional and Business Intelligence. These are all designed to make your accounting as simple, straightforward, and intuitive as possible. Here's a breakdown of what they provide:
Multi-Currency recognizes and uses all languages, currencies and tax rates. Accounting Professional groups all of your incoming and outgoing invoices centrally, enabling you to pre-account and automatically send them to your accounting department.
Business Intelligence helps you to develop your business using data-led reports on Key Performance Indicators and other development areas and projects.
Other features of Xentral's automated accounting include:
Clear finance dashboards.

More than 100 reports and statistics options.

Detailed liquidity forecasts.

Intelligent management of accounts receivable and accounts payable.

Invoice management, including reversal and credit memos.

Automated payment reconciliation of incoming purchase orders.

Seamless communication with payment providers and banks. 

A fully automated dunning process. 

Automatic sales tax splitting. 

Automated delivery threshold management.

And much more!
With Xentral ERP software, you can choose from a huge range of possibilities! Our primary goal is to save you as much time and effort as possible, freeing you up to plan the development and greater success of your business.
How about it – do you feel like trying out our ERP software? You can do that with Xentral for 14 days, free of charge. Want more information? Check out our ERP comparison, as well as some Xentral testimonials and the Xentral test version. Further inspiration on ERPs and growing your company's success can be found on our blog!
FAQ – Frequently asked questions about automated accounting
What does automated accounting mean?

Once you're in business, you'll have some work to do with accounting transactions. Automated accounting means that with the help of software you can digitize and automatically process essential work steps.

What are the advantages of automated accounting?

Automating your accounting not only saves you and your employees an enormous amount of time, it also allows you to perform day-by-day analyses, optimize your dunning process and save resources. Automated accounting can minimize errors and reduce the workload of your team members.

What are the challenges associated with automated accounting?

The biggest challenges of automated accounting are the implementation process of the new software and employee training. Of course, this leads to effort, especially at the beginning, but it more than pays off in the course of time!

How can an ERP and automated accounting help me?

Accounting software allows you to automate the accounting process. If you want to go one step further and link several business areas, you should use a powerful ERP. With it, you can digitize your entire company and maintain an overview of all business processes. This saves you even more time and effort.