Be one of Germany's top 100 growth champions like KoRo
The KoRo business idea
21. Juli 2022
Elisabeth Meyer
11 minutes reading time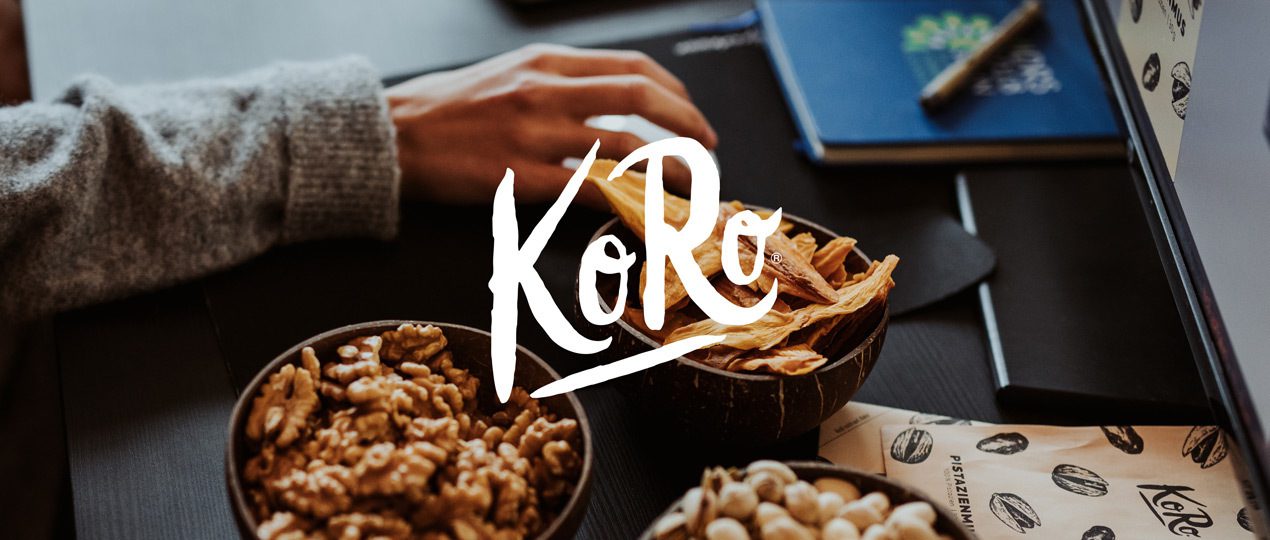 The KoRo business idea
Selling non-perishable food like dried fruit, nuts and rice is nothing new in itself. But this is exactly what made two guys from Berlin established players in the e-commerce market. How? Through a winning concept based on optimized purchase prices. KoRo's concept is honest, innovative and customer-centric. Sourcing its wares directly from the producer while guaranteeing great flexibility in package types and size at the same time. This allows the company to ensure short trade channels and low purchase prices that can be passed on directly to end consumers. KoRo's track record since it started up in 2015 shows just how successful customer-oriented business models can be: hundreds of millions of euros worth of sales, up to 300 orders dispatched every day and almost 1,000 products in its online shop.
The growth champion's system landscape – ERP, shop, fulfiller and other tools 
KoRo relies on future-oriented, scalable solutions and processes. Specifically, it has Shopware as its shop system, uses Xentral as its ERP system for all business processes, outsources logistics to a fulfillment service provider (that uses Descartes pixi as a WMS system) and conducts all of its post-purchase communication via PAQATO. 
Thanks to the very latest Shopware plug-in Xentral Business Booster, Xentral's ERP business modules can be accessed even more easily by Shopware customers. 
xentral imports all orders, aligns inventories, loads the updates to all sales channels and notifies you about any articles that require reordering.

Whether you work with your own warehouse, FBA or a fulfiller, one glance is all you need to keep track of your logistics at any time. You can also analyze and benchmark the performance of your logistics. CEO Constantinos Calios explains the benefit: "The more products you move, the more inventory needs to be managed. Xentral and our fulfillers are connected seamlessly with one another. Thanks to the processes made available by Xentral, picking and packing errors are a thing of the past. As well as this, Xentral automatically prints shipping labels. The workflow runs automatically. It's incredibly efficient."

With the new Shopware plug-in Xentral Business Booster, all incoming and outgoing invoices are available centrally, can be preassigned on request and are sent to your accounting department automatically. KoRo also benefits from this function: "Shopware allows us to offer our customers lots of different payment options. With Xentral, all types of payments are posted automatically – meaning that our accounting people no longer have to do anything manually. Which in turn saves us a whole lot of time." 
Top tip from KoRo 
Use software solutions like xentral ERP and Shopware that grow as you grow. Before discovering Xentral, we used another ERP provider that wasn't able to handle our growth. So we had to switch over to Xentral. Otherwise it just eats up time that would be better invested in your business. For example in post-purchase communication via PAQATO. Our logistics was outsourced to fulfiller VAH Jager, which uses Descartes pixi as a WMS and receives all data from Xentral ERP. 
Communication: customers are looking for authenticity and expect to be kept informed while the package is on its way
It's not just a question of choosing the right marketing channel. Rather, you should ask yourself: "What do my customers want to see and hear?" At least that is the advice given by CEO Constantinos Calios: 
"Don't limit yourself, don't get entrenched in your own assumptions and avoid being overly technical. Agencies often try to force over-engineered communication strategies onto founders. We'd advise against that. Cust