Automating e-commerce with a smart ERP system
Automate e-commerce
21. Juli 2022
Elisabeth Büschler
5 minutes reading time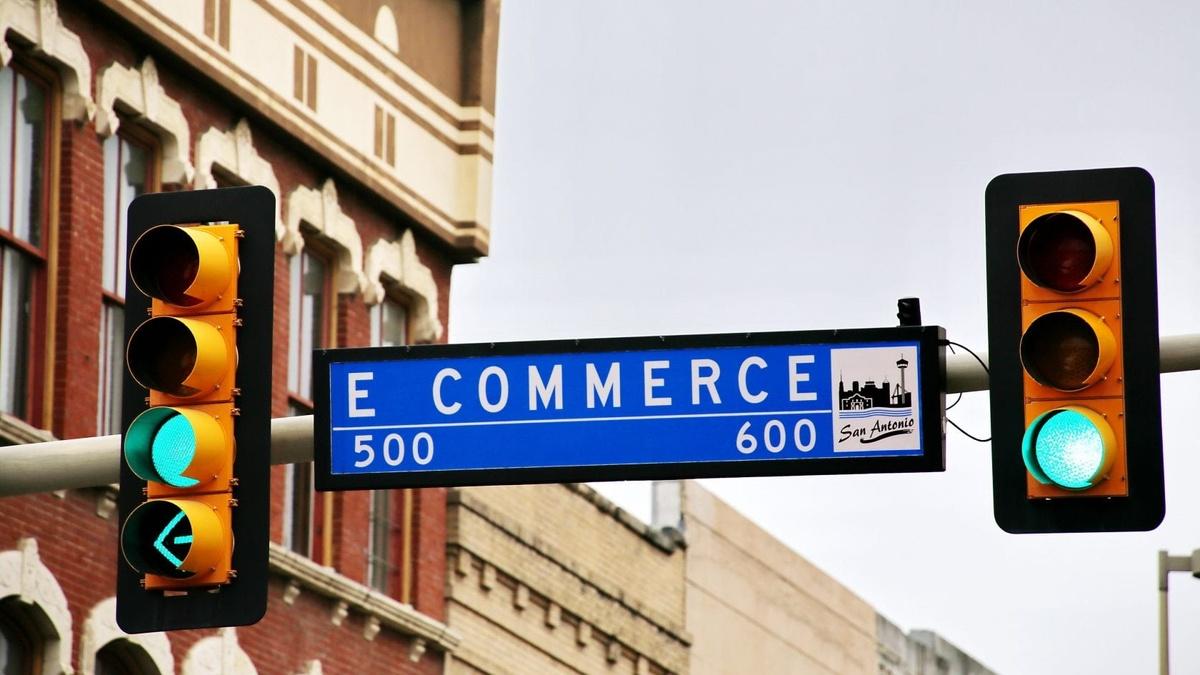 In the e-commerce sector, many processes come together which need to be properly structured and coordinated. Orders arriving via a variety of online stores and marketplaces have to be recorded, processed and picked up in the warehouse. They are then packed, the shipping bill is created, and then either the company ships by itself or, if the order exceeds a certain size, hands it over to a fulfillment service provider. If the orders still have to be exported manually from several online stores and imported elsewhere in this chain, the end result will always be chaotic. A modern ERP system creates a structure that allows this chain to run smoothly.
What makes an ERP system 'modern'?
A modern cloud-based ERP system must have the following characteristics:
Enhanced data security capability that allows you to choose who can access data and who has permission to utilize it.

Simple, easy to implement, and seamless integration with other applications, in the cloud or on-site.

A customized experience catering to the specific needs of your business, including any future updates and upgrades.

Design with the industry's best practices in mind to help reduce overall costs and improve productivity.

Global, real-time accessibility to enable your business to work cohesively and collaboratively across all departments, offices, units, and teams, no matter where in the world they are located.

Meaningful and valuable real-time information that allows you and your team to make well-informed decisions quickly and decisively.

An efficient and satisfying experience for each customer, easily monitored and documented for possible improvements.

Complete automation of administrative processes so that you can focus on other aspects of your business, such as marketing and strategy.
While each of these characteristics is important, the final point regarding automation is absolutely essential for growing e-commerce companies.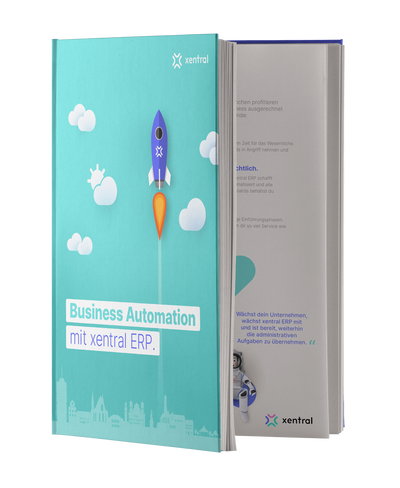 eBook: Business Automation mit Xentral
In this eBook you'll learn:
How Xentral can help you grow your business and take it to the next level

What top features and integrations Xentral offers you to manage your business from start to finish
Download now
A modern ERP system is a MUST in e-commerce!
In e-commerce, the question is not whether you need an ERP system but rather which one is the most suitable for your needs. Online shops need software that can automate a wide range of their existing processes to keep up with the competitive nature of e-commerce and meet customer demands for speed and professionalism. In this context, some major ERP vendors are touting artificial intelligence (AI) as the must-have for the coming years. However, online players should avoid being blinded by the hype, as all known ERP systems now offer a high degree of automation which is becoming more sophisticated by the minute. Automation can reduce administrative burdens by an enormous degree, especially for routine tasks. AI is currently only relevant for niche solutions, while every online seller should prioritize process automation.
The Amazon interface – challenging for an ERP system
In e-commerce, you can barely avoid Amazon. However, the platform has some pitfalls if you are planning on connecting it to an ERP system. Worth mentioning here, for example, are the cut-off times: if orders are not processed on the same day, Amazon demands clarification. Thankfully, you can circumvent this thanks to a fast-lane prioritization of Amazon orders in your ERP system. To ensure orders are always processed using the same interface, all information can be accessed and processed via the Amazon Seller app. This feature saves you the extra effort of constantly logging into the Seller Center.
Similarly to Amazon, other service providers have their disadvantages. That's why you should ensure that their respective interfaces also offer all of the functions you'll need.
How an automated e-commerce process can work
Let's assume e-commerce entrepreneurs have chosen an ERP system that covers all the functions and interfaces they need. In this case, the automation process usually works as follows: the software connects to the online shop and picks up the order details directly from there. The ERP system checks if the payment has been received and whether or not the products are ready to ship, depending on the payment terms. If this is the case, the software books the goods and checks the stock level, and if necessary, reorders them directly from the supplier. If the shipping service providers are connected via an interface, the shipping labels and prepaid return labels are printed, and so are the invoices and delivery bills. The packing list controls optimized management through the warehouse.
When choosing an ERP system, always pay attention to scalability!
To ensure that a particular ERP system is the right companion in the long run, e-commerce merchants should pay attention to scalability. Consider the following questions:
Is the number of possible connections limited?

Can performance be maintained as the order volume increases?

At what point does the software licensing and pricing change?
If you choose an ERP solution that is too limited for you during the early stages of scaling your online store, you will eventually have a boomerang effect. Worst-case scenario, you'll end up having to quickly switch over to another software system. Of course, this all costs time and money. That's why choosing the right tech system for high-performance business models, like e-commerce, is essential for long-term success.
Online sellers should answer these questions before making their decision on an ERP:
What are my needs?

What interfaces do I need now, and what interfaces might I need in the future?

How complex/unique are my processes? Do I need a customized individual solution, or will the basic functions be enough for the time being?

Where will my company be in 5 and 10 years? Can the ERP system provide the necessary interfaces and handle the anticipated volume of orders?

Can I map both in-house logistics and an external service provider?
If your ERP software meets these requirements, then you are well prepared for future challenges.
Try out Xentral ERP software with a 14-day free trial!
Are you interested in trying a modern and cutting-edge ERP system yourself? Then download Xentral today! It is easy to use for automating tasks, so contact Xentral to claim your 14-day free demo.