Presch Tools - do the job properly
PRESCH Tools professionalises its merchandise management with the ERP solution Xentral. The two managing directors Hergen Schwarting and Benjamin Preisner report on how a customised solution was created from the versatile modular system, what challenges and advantages arose and how they experienced the implementation.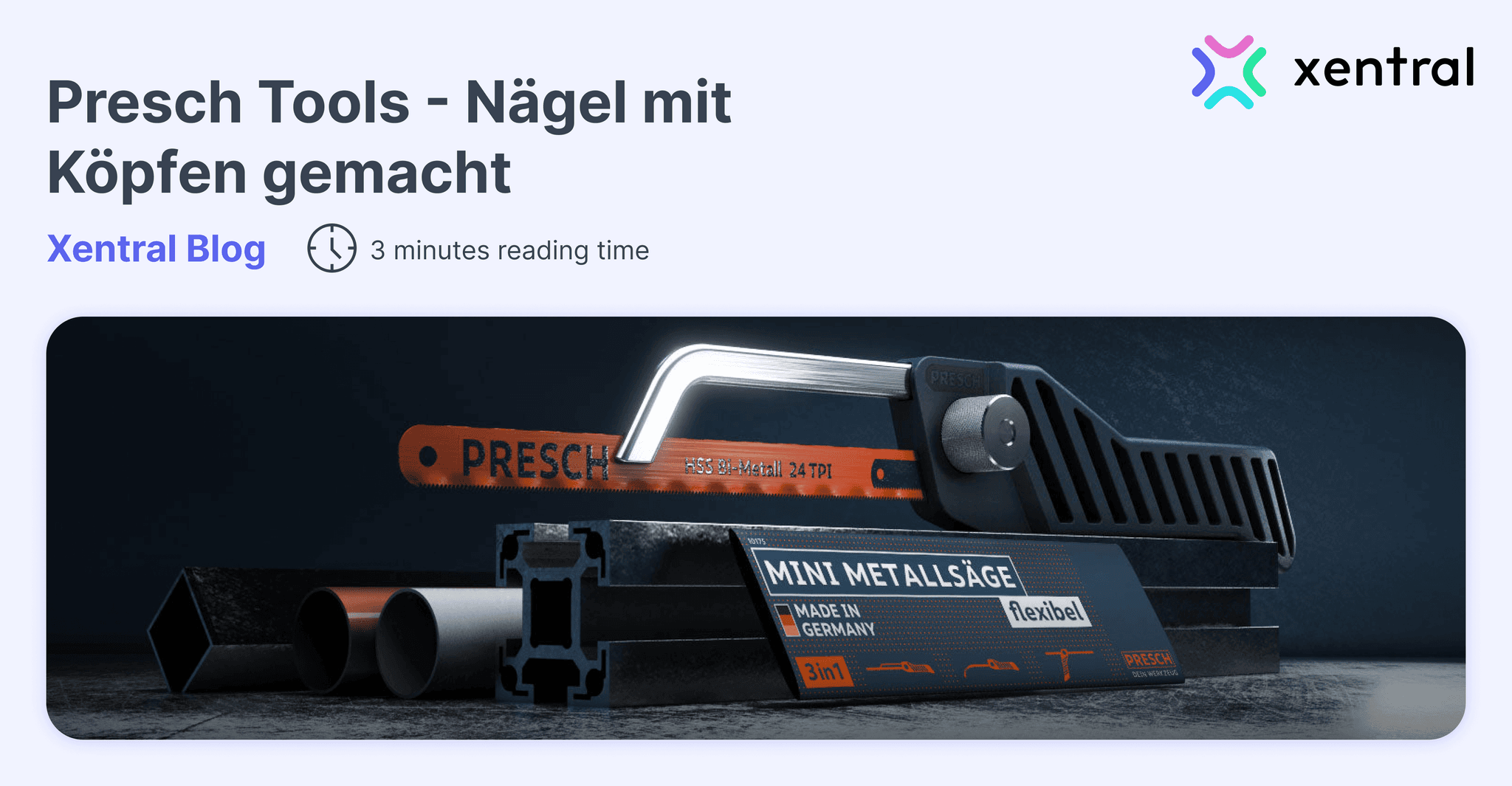 Tearing down old structures and building up a new company - what a thankful transition to the topic of tools!
After all, this is supposed to be about two master builders who are literally hanging up old distribution channels and taking the market by the horns. But enough with the craft phrases (at least for now)!
⁠
⁠
A solid basis
Hergen Schwarting and Benjamin Preisner founded their first joint company back in 2009. Labamo GmbH is a pure e-commerce trading company for radiant heaters. So they already started the journey of entrepreneurship together.
Then, a few years ago, the desire arose to create their own brand, to create something of their own and to take a self-determined path.
⁠
⁠
Flash of inspiration in front of the DIY store shelf
The idea to "make in tools" came to them out of nowhere. They have no background in crafts apart from rudimentary DIY, but instinctively knew that tools would provide the right product range for their plans.
⁠
Various visits to DIY stores and several hours of brainstorming followed until they knew exactly where the journey was to take them: it was a matter of dusting off the entire tool sector and giving it a proper makeover. Their goal was to turn the humdrum trade in tools into a customer experience with a good dose of digital sexiness.
⁠
An old market was to be brought together with the new world. Until now, it had been customary for craftsmen to buy their equipment from wholesalers or specialist dealers; online trade did not play a major role. And this was despite the fact that demand was already very high at that time.

⁠
⁠Classic tool - but different
Even before the big manufacturers found their way to e-commerce, Hergen and Benjamin started their tool revolution in 2017 with new eyes and a fresh perspective - and showed the competition where the hammer hangs (excuse me).
⁠
They want to make it as easy as possible for their customers to source their products while giving their best in all areas. They consistently orient their company to this maxim. A high understanding of quality and a rich assortment ensure full order books; around 50 different tools are already available.
⁠
⁠
The customer as a partner
Ergonomic handles and the right weight - every article is thought through from start to finish and is developed in teamwork; new products are in the planning stage. But the biggest innovation for Presch Tools is the distribution channel.
⁠
As a classic direct-to-consumer brand, they leave out the middleman and take logistics, transport, marketing and distribution into their own hands. In this way, the end customer is always a direct partner, to whom they feel committed.
⁠
For this reason, the old is being rethought, processes are being questioned and workplaces are being designed flexibly. There is no need for a corporate mentality, but rather constant dialogue should lead the way.

⁠Xentral - a different kind of tool
As an e-commerce-only company, they benefit from the experience of their first joint venture. There, after a few months of procrastination - in the midst of shop systems and various excel spreadsheets - and a few blunders, they learned the benefits of a cleanly implemented and cloud-based ERP system and therefore opted for professional enterprise resource planning for Presch Tools right from the start.
⁠
After Xentral had already served them well in the old company, it was logical for them to use the proven system for the new "baby" as well.

⁠
⁠Implementation professionals - for the finishing touches
The two experienced Xentral users set up the system largely on their own.
⁠
The connection of Xentral to the fulfilment warehouse with the complex interfaces and the necessary communication, however, Hergen and Benjamin confidently placed in the hands of the implementation experts of otaja (meanwhile part of Xentral) and enjoyed a functioning solution afterwards.
⁠
The entrepreneurs liked the clear, transparent communication during the set-up process as well as the great expertise. Also the reaction time left nothing to be desired: Prompt answers and timely meeting appointments contributed to the fact that the set-up could be completed quickly and cleanly.
⁠
In the case of follow-up enquiries, even after projects have been completed, answers are given within 24 hours. A reliability that both appreciate - and also require.
⁠
After successful implementation, one can now be curious to see what ideas the team at Presch Tools will implement next - for the core redevelopment of the tool world.
⁠
By the way, even for less experienced Xentral customers, independent implementation is no longer a problem! We introduce: The Xentral Academy. The practice-oriented video course, created by otaja and now freely available at Xentral, provides you with tips and tricks around implementation and use.
⁠
More than 200 videos help you in an entertaining way to get the best out of your ERP system, no matter if you are at the very beginning of the set-up or if you are already an old Xentral hand.