Select your plan
Save more than 12% with an annual contract
Ideal for start-ups and small businesses, service providers and manufacturers who want to automate their processes
Starts from
390€
Contact Sales
Support
Community support

Xentral ticket support

Full access to the Academy
Size
1 users included

Additional users for 65€ / month* (unlimited)

Additional light users for 30€ / month* (unlimited)
* The term of additional modules and users is based on the term of the main contract.
Ideal for growing e-commerce companies, service providers and producers who want to manage their processes centrally
Starts from
Custom
Contact sales
Features
Core data management for your business

All Pro Apps included

Sandbox environment
Support
Community support

Xentral priority ticket support

Call-back service

Emergency support

Success Planning
Size
10 users included

Additional users for 65€ / month* (unlimited)

Unlimited light users included
* The term of additional modules and users is based on the term of the main contract.
Standard Feature Comparison
*Advanced features and Pro Apps are listed here.

Product information overview
Store all your product properties
Store all your product properties
Import/export product data
Assign a value or characteristic to item properties
Customer & supplier data overview
Store payment & shipping preferences
Link contacts with receipts and documents
Communicate directly with customers (email)
Automatically add customers to your database
Store customer-specific discounts and framework agreements
Stock level overview for all your warehouses
Current inventory value overview
Transfer stock between warehouses
Transmit pseudo stock figures
Consignment or replenishment warehouses
Store delivery thresholds for foreign sales
Export accounting data to external providers
Transfer receipts from Xentral to Taxdoo
Invoice open invoices in Swiss francs and euros and to record incoming payments
Communicate with your team via direct integration
Establish clear release processes
Hire and onboard employees
Pay wages and commissions
Order and order status overview
Product promotions and serial letters overview
Send offers to individual customers
Automatically import orders from online shops & marketplaces
Manage your voucher codes & promotions
Automatically calculate & preview delivery dates
Manage your storage space
Map good receipts for third-party suppliers
Plan and manage production processes
Map out order-based production
Manage T&Cs for suppliers
Create order and assign order proposals
See a future projection of required stock levels
Map out your dropshipping suppliers
Evaluate sales performance
Create individual reports
Support customers via ticketing system
Return Receipt Management
Definition of reasons for returns
Create pick lists for order picking
Automatically manage packing material
Print parcel label and delivery notes
Print prime parcel labels
Print dangerous goods consignment note
Create branch-specific deliveries
Export orders to fulfilment providers
Export orders to dropshipping warehouses
Connect and hand over orders to a forwarding agent
Get an overview of all unshipped items
Link the Swiss Post interface and create Xentral parcel stamps for Post.ch
Billing of subscription contracts
Customise document layout templates
Integrate with payment service providers
Automatically bill & collect regular receivables
Send reminder notices and fees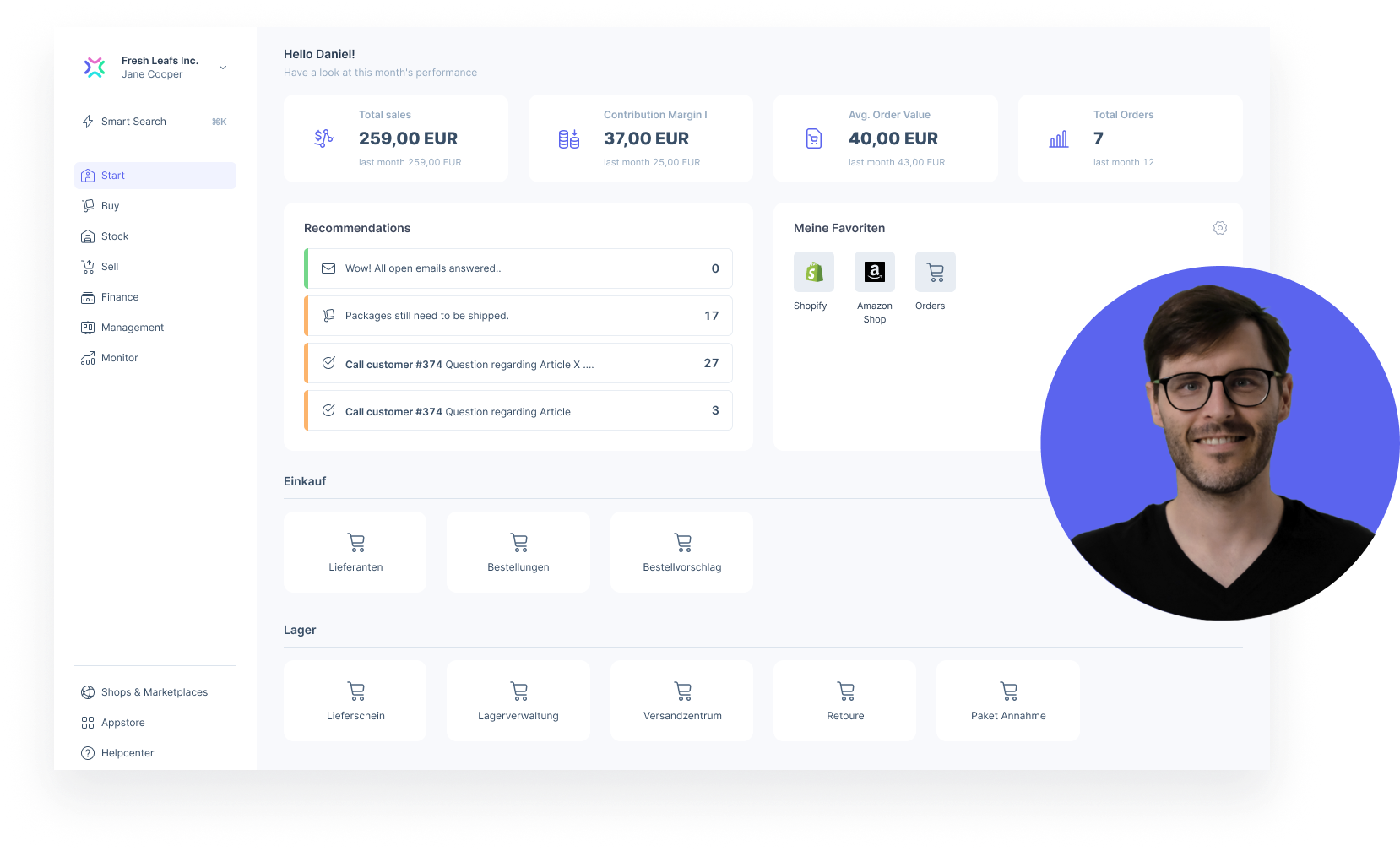 Do you need help getting started?
We're here for you.
Open questions? Our expert team will be happy to show you all Xentral features in a 1-to-1 conversation and answer all your questions about our pricing structure.
FAQ
I would like to test Xentral. Is this possible?
How do I connect Xentral to my tool landscape?
Where is my data stored? Where are the Xentral servers located?
I already use an ERP and now I want to switch to Xentral. What do I need to do for this?