Scooper Energy - a different kind of caffeine kick
Sustainable growth – from the start: Scooper Energy works more efficiently every day with Xentral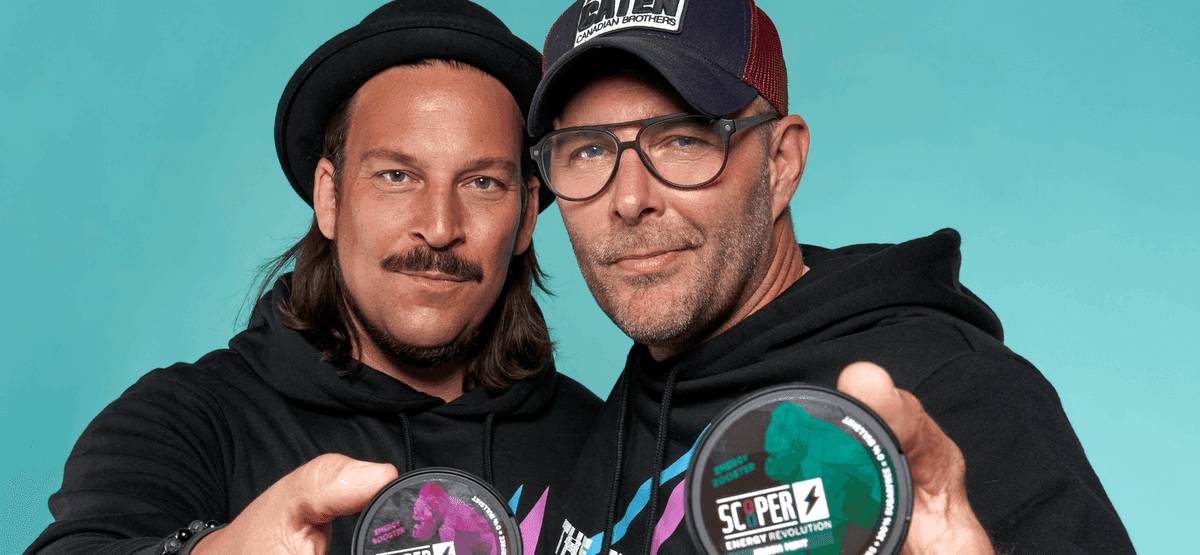 Patrik Fuchs of Scooper Energy tells us how an idea made it from the back of his head to TV, the steps necessary to build a company and how Xentral has helped him grow successfully from the start.
What is worth waiting for
The original idea for his Wachmacher came to Patrik Fuchs' mind around ten years ago. From then on, it sat in the drawer for nine years, quietly maturing there - only to be implemented within just three months.
But first things first:
Patrik worked at Nespresso in B2B for 11 years (we can already see a certain caffeine affinity here).
⁠After he had achieved everything for himself professionally, Patrik was drawn to new adventures and challenges. He decided to use his wealth of experience and venture into self-employment.
⁠Michael Gueth, a renowned high-fashion photographer and global photographer of people and commercials, worked for and with Patrik during this time and made sure - himself or through his network - that everything from photos to videos to events was always spectacular was beautiful. Since a friendly relationship had developed through years of cooperation and both were on the same wavelength, they decided to jump in at the deep end and immerse themselves in the start-up scene.
⁠Success paves your way: via detours to the goal
As a consulting firm for the premium hotel industry, they soon ensured higher sales in the finest hotels and gained valuable experience in the area of self-employment. Three highly successful months with top deals gave reason for hope - and then Corona came.
⁠⁠Management consulting for premium hotels would not work without the necessary guests - and the successful duo was faced with the shards of the joint project.
⁠Next idea, please: The two friends suggested to Steffen Henssler that he use the many empty hotel kitchens to prepare sushi and deliver the delicious rolls to the surrounding area. So simple, so ingenious: ten days later, the first sushi delivery left an orphaned hotel on its way to the customer. Eight other locations and all kinds of refrigerated trucks followed within a year, and meanwhile the culinary interim uses ensure an unbelievable 20 million euros in sales.
⁠This lucrative flash of inspiration gave Patrik and Micha enough money to plan the next coup:
⁠Patrik's above-mentioned long-guarded and constantly evolving idea should finally be taken out of the drawer and thrown onto the market with a bang.
From the jacket pocket to the cheek pocket - the pick-me-up for on the go
⁠But what is actually behind this idea? What is Scooper Energy? These are caffeinated pads for the oral cavity. The product contains no sugar, but flavors, organic birch bark and vitamin B5, it is vegan and undoubtedly original in the dosage form! The caffeine contained in the pouches gets directly into the blood via the oral mucosa - and gets it going. Incidentally, the bundles of energy also ensure pleasant breath and a fresh mouthfeel.
⁠⁠
The show stage as a business booster
Once they decided to get down to business, the two didn't want to waste any more time. And which move promises founders maximum attention in the shortest possible time? Yes! A pitch at "Die Höhle der Löwen" should bring dynamics into the matter, ideally bring in the necessary change for the production and at the same time provide welcome PR.
⁠⁠All they could show at that point was their vision; they only came with prototypes because their product hadn't even been manufactured yet. It was more than enough - they got their deal and finally could take off.
⁠And this should be done in the most sustainable way possible. They were never out for a quick buck, but value brand building. They want to create a real brand. And they've been successful with it for about a year!
⁠⁠
The goal: to invest the energy correctly
Through his experience at Nespresso, Patrik already knew that every company of a certain size needs a resilient ERP system. Other founders who initially took care of packaging and shipping themselves and had had very bad experiences with it, also advised them to choose an ERP system that can automate fulfillment and shipping.
⁠
The clear recommendation: Xentral.
⁠Patrik did some research, was quickly convinced and got in touch with Xentral before his launch day. Immediately after his notary appointment, he then started to set it up.
⁠By the way: Patrik carried out his Xentral implementation with the support of the service provider otaja. We at Xentral were so enthusiastic about their detailed and easy-to-understand video tutorials that we bought them without further ado and made them accessible to our customers at any time!
⁠In the Xentral Academy you will not only learn step by step how to start with Xentral, you will also receive many tips and tricks for everyday use.
And how did the setup work?
⁠"It worked for us from day one."
⁠Patrik and Micha had already made another important decision in advance: They would use a fulfillment partner (Pick&Pack24) and not carry out the shipping themselves.
⁠"We have our fulfillment partner in Germany, the producer in Sweden and the raw material in Ireland and can map this very well - also thanks to Xentral's excellent services and functions. Xentral helps us become more efficient every day."
⁠
What else does it take besides Xentral to be so successful with your own business? Patrik⁠ shares his experiences and tips in the Founder Talk with Xentral CEO Benedikt Sauter:
Scooper Energy - The Future Of Being Awake
Scooper Energy sees itself as the "future of being awake", but what are the bright gang actually planning for their own? Future?
⁠⁠Your own awareness should be further increased; Awareness is an important issue for Scooper Energy. The strategy includes social media (Tiktok at the forefront) and influencers as well as offline marketing through a festival tour. And thanks to Xentral, they also have enough time to keep working on clever marketing ideas!
⁠The current 10 employees should also increase to 30 in the medium term and new flavors are also in the pipeline - Patrik's favorite is Iced Honey Ginger.
If your fingers are itching and you also want to improve your business operations, then you can test Xentral without obligation for 14 days weeks or arrange a demo call directly and get rid of all your questions.