Smart
Procurement
Never out of stock: With our controllable goods receipt system and the advanced order proposal, you always keep track and can optimize your margin.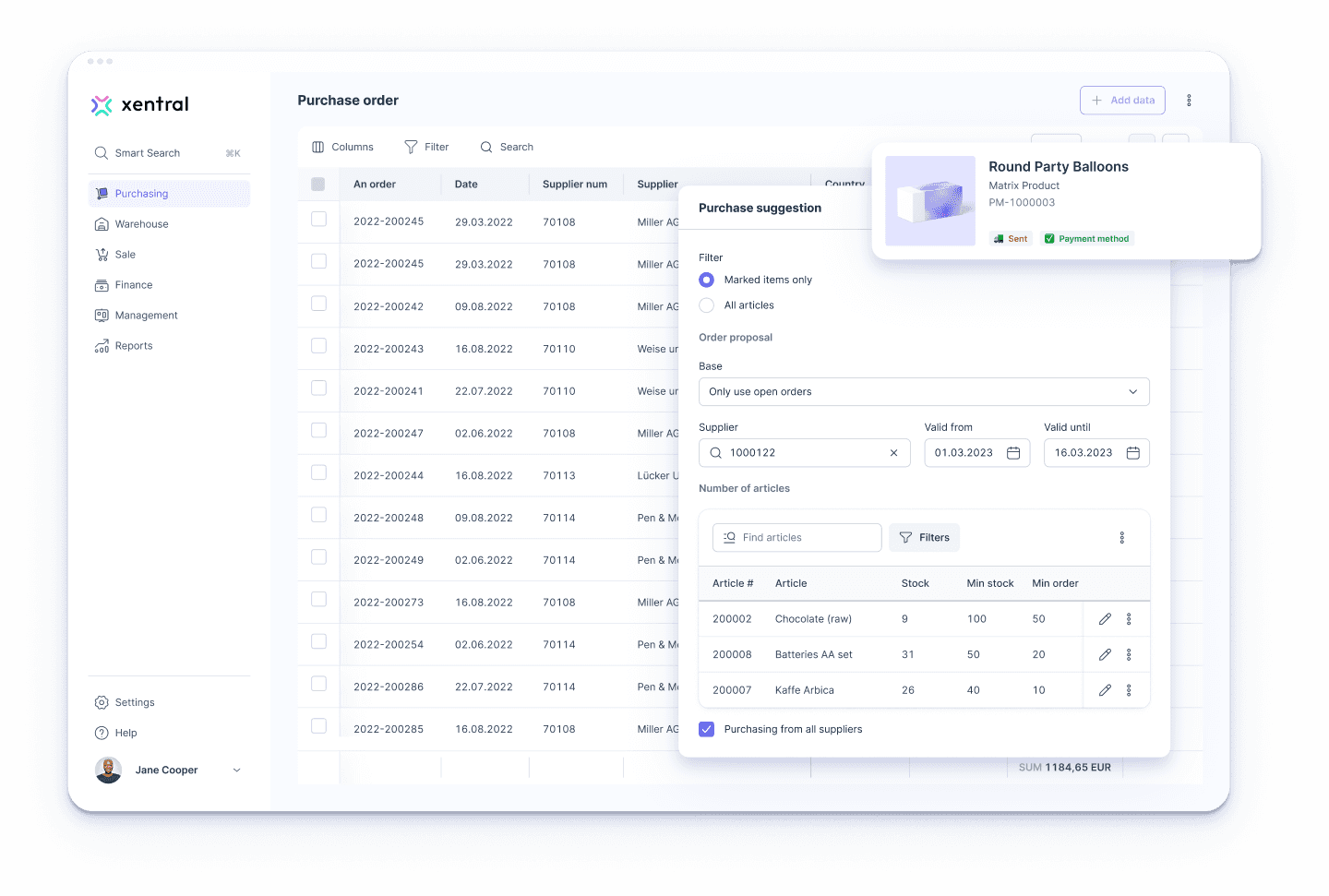 Purchasing
Use Xentral as your central procurement intelligence and optimize how your receive goods and manage your suppliers. With connected workflows and a comprehensive overview of prices and conditions, you will save time and money.
The top 3 Xentral features in purchasing
Shop smart and needs-based
Automatic order suggestions
Xentral allows you to keep track of your inventory at all times and, based on minimum inventory levels and historical sales figures, automatically informs you when it's time to reorder.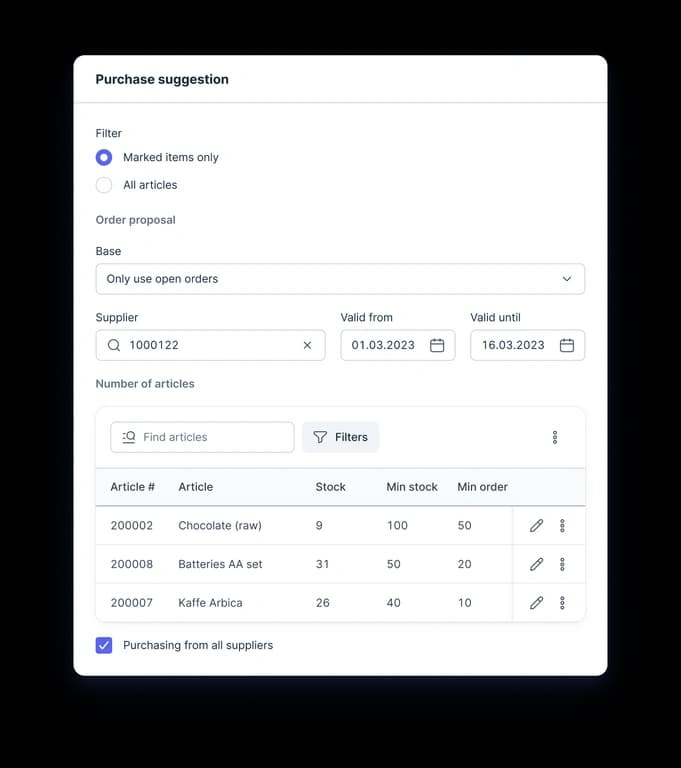 Manage warehouse processes error-free
Automate incoming goods
Once the ordered goods have arrived, you register them quickly and easily via bar code. Partial deliveries and damaged units can also be mapped with Xentral.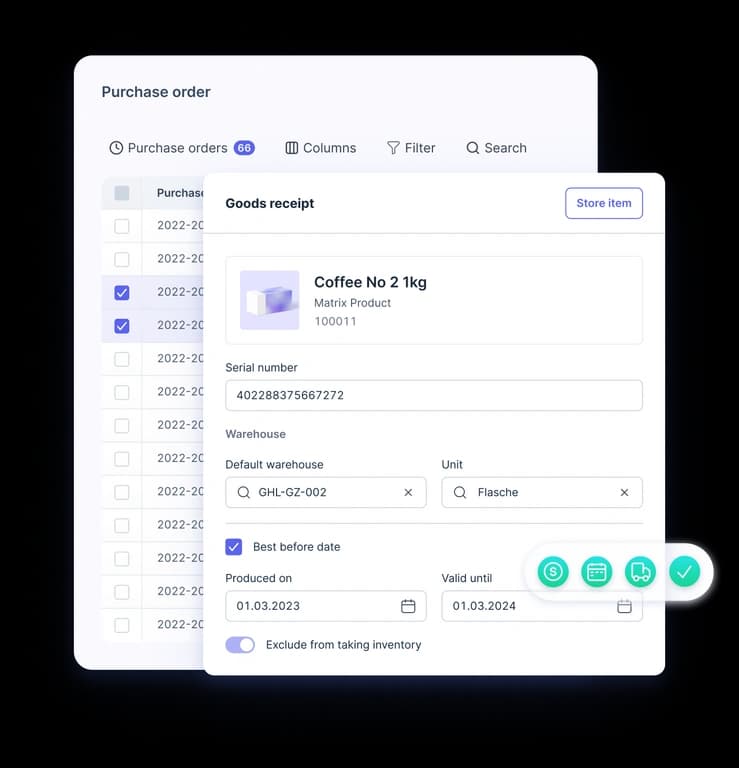 Shop smart and needs-based
Higher margins thanks to purchase history and actual selling prices
With Xentral, you no longer have to worry about whether you're selling your products profitably – Xentral will help you to compare the actual purchasing and selling prices of your products so that you can optimize your processes and sales in good time.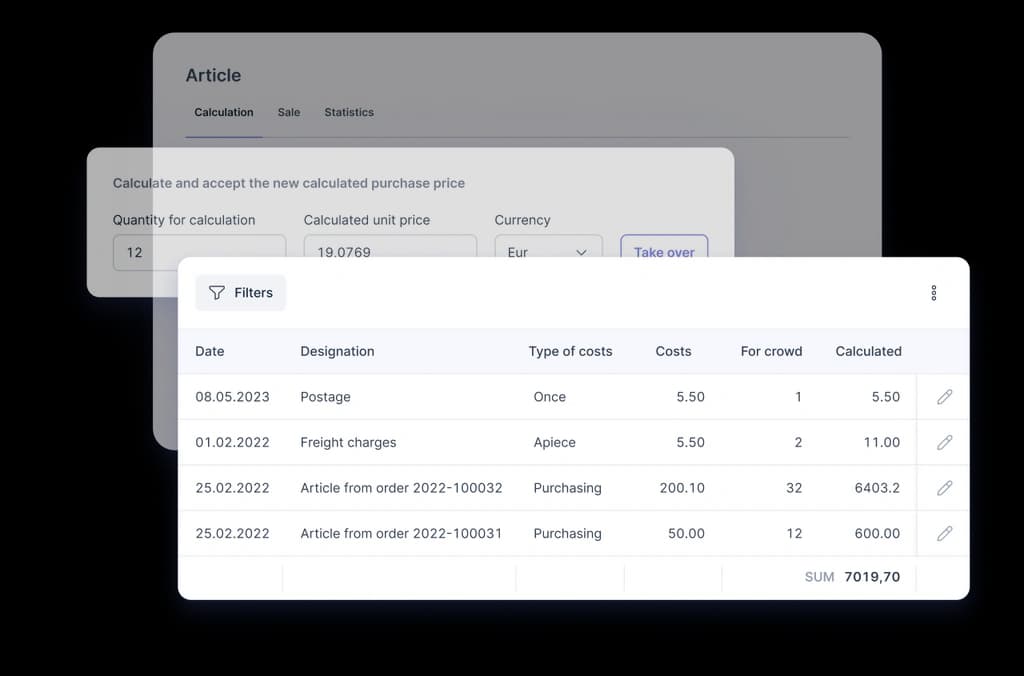 Needs-oriented purchasing
Do I need to reorder already?
If you don't keep a handle on reordering articles and on incoming goods, you run the risk of empty warehouses, long shipping times and dissatisfied customers. Xentral helps you clarify central purchasing questions quickly and transparently.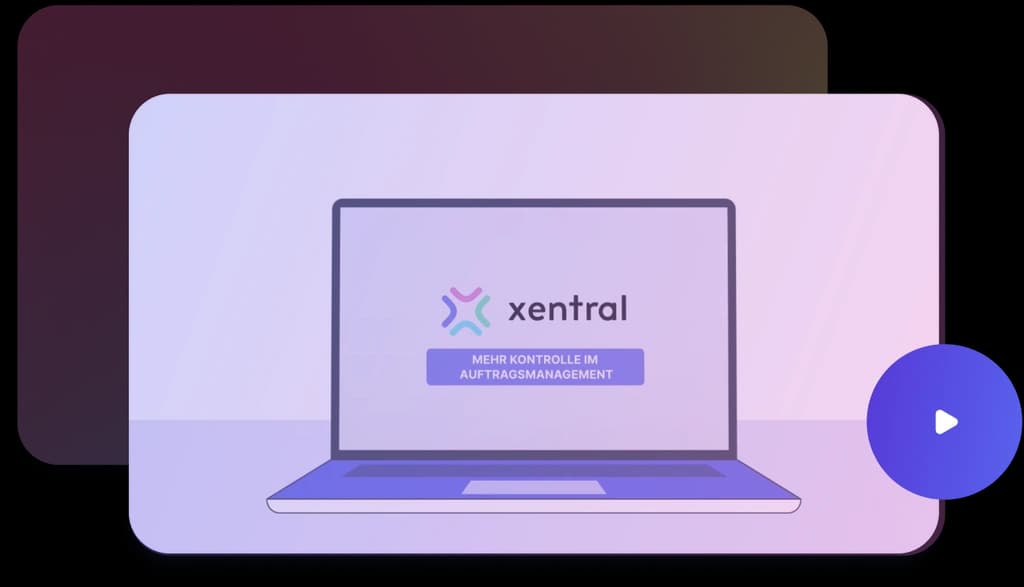 Are these challenges familiar to you?
You are not alone. Many of our customers have faced the same challenges.
Chaotic Channels

You create new sales channels. But with every sales channel, the effort for your order and order processing increases.

Lack of perspective

You want to see the status of your orders at a glance. Instead, you feel like a detective looking for clues.

Less and less control

You think you have everything under control, but you are annoyed by unpaid bills, empty warehouses and open orders.
Optimized warehouses free of low-selling products
Use Xentral as your central intelligence when purchasing – and optimize your incoming goods and supplier management. With networked workflows and an extensive overview of prices and conditions, you will save time and costs in purchasing.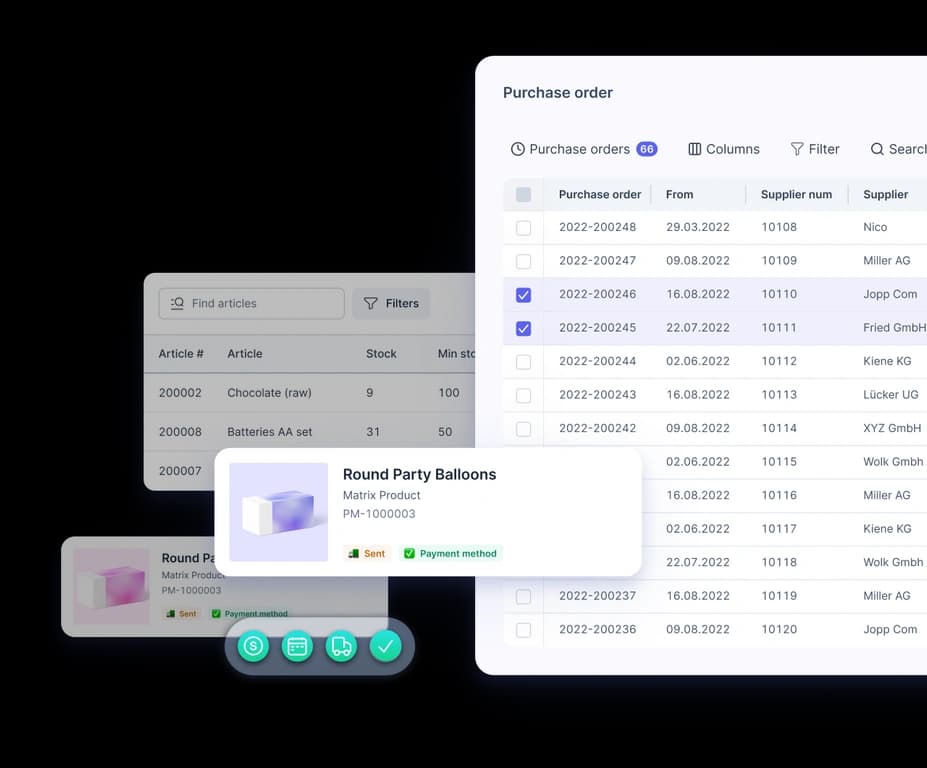 How Xentral can optimize your purchasing
Reorder in time

Functions like minimum inventory or automatic order recommendations will let you know in plenty of time when you need to stock up on new products, articles or stock list articles.

Automate incoming goods

Register incoming goods more quickly and easily in your warehouse, for example by scanning them in. Partial deliveries can also be registered. Incoming articles are added directly to inventory levels.

Manage suppliers

Xentral imports all orders from your sales channels and sets up new customers automatically. Alternatively, you can create your customer data easily via CSV upload or manually in Xentral.

Trace purchase history

Keep track of which articles you ordered where at what price and save up-to-date purchase prices or discounts. When setting up articles, you can assign a standard supplier directly.

Match purchase prices with selling prices

Compare actual purchase prices with actual selling prices: Based on the historical order and purchasing data, Xentral will produce transparent reports on your actual profit margin per article.

Order new stock

Place your orders even faster in future and send them to new or existing suppliers with just a few clicks. Standard templates for individual service providers can increase your efficiency even further.
Smart procurement – as demonstrated by our customers
"Dass du nicht out of stock gehst und dich nicht unbemerkt leer verkaufst, ist immens wichtig und ein großer Vorteil von Xentral. Der ganze Einkauf wird auf Dauer erleichtert. Du legst Daten einmal sauber an und kannst dann immer wieder schnell darauf zugreifen, verschiedene Kosten auswerten und Zusammenhänge erkennen." - Christoph Lindlar, Meine Orangerie
Get the Xentral news first