e-food marketplaces: How to sell your food products at Amazon, Kroger, etc.
To list your food products on e-food marketplaces like Amazon, you need to follow a few guidelines and regulations beforehand.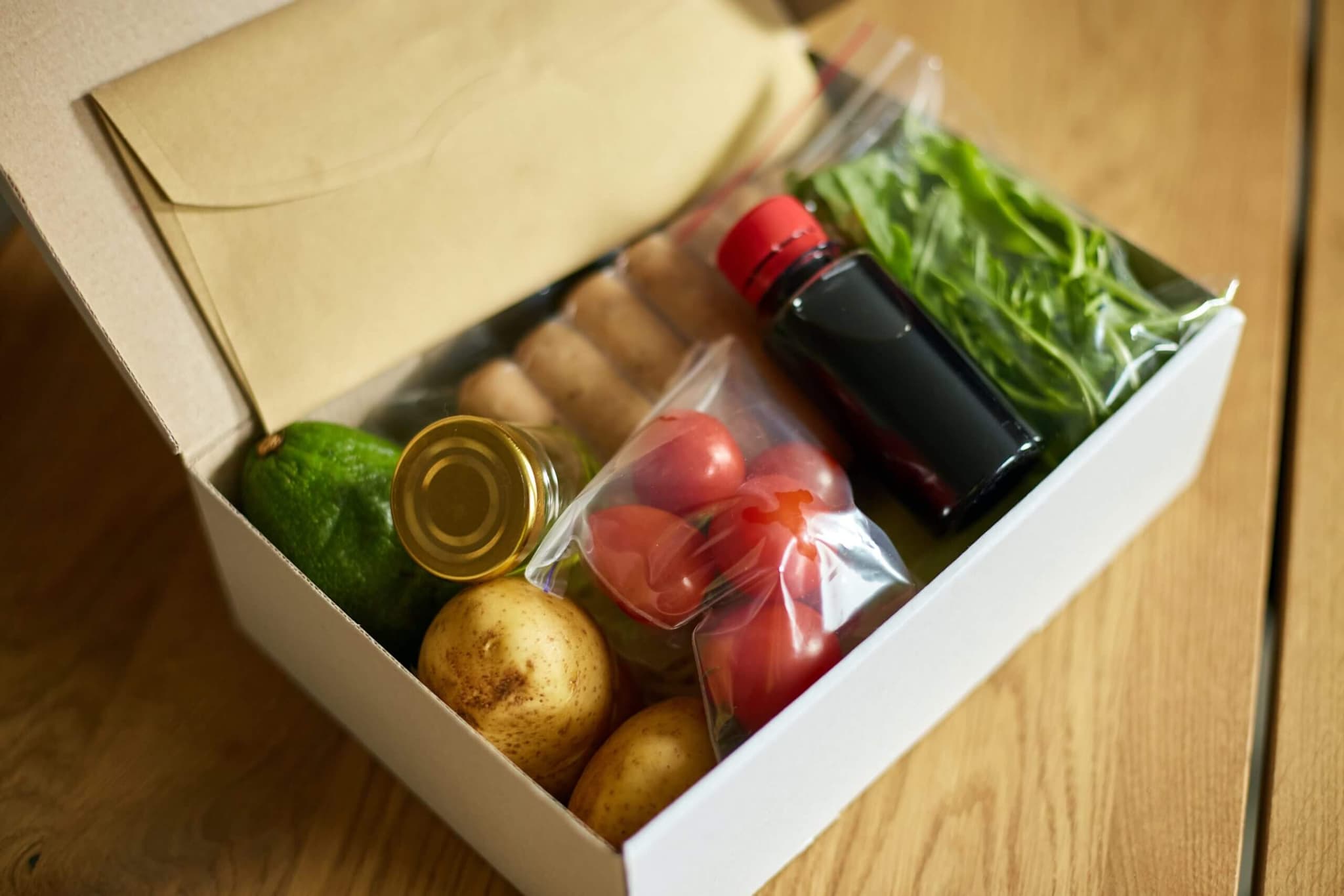 The e-food market is booming. This can be seen for example from a study by German trade journal Handelsblatt that examines the growth in online food sales in Germany:
In the first quarter of 2020 alone, overall online food sales increased by 84.5 percent year-on-year. This amounts to sales of €666 million – and the market is still booming!
If you want to benefit from this trend, you need to sell your own food products on e-food marketplaces like Amazon, Kroger or Instacart. This is very likely to boost the sales of your e-commerce company enormously.
To do so, however, you not only have to meet the specifications of the individual e-food marketplaces but also need to gear your work processes to the new requirements.
Why e-food marketplaces are the number one choice for selling food online
Selling your food products on an online marketplace is a great idea that will take your e-commerce company to the next level. This is demonstrated by companies like Feneberg, who have moved away from running their own online shop and towards e-food marketplaces like Bringmeister instead.
An e-food marketplace offers you the following advantages:
It's easier to reach potential customers
You spend less time and money on logistics and/or shipping
You can use the e-food marketplace's infrastructure
There are less additional advertising costs
 

The key advantage of an e-food marketplace is that you can use the marketplace's infrastructure and don't need to set up your own. As well as this, you're not only more visible for customers, but they also trust in the quality of your food products right away.
Conditions set by e-food marketplaces like Amazon or Kroger
If you have your sights set on selling your food products on an e-food marketplace like Amazon, Kroger or Instacart, there are a few conditions you need to bear in mind. In doing so, you can make sure that the marketplace ends up selling your products and that you reap the benefits.
These specifications relate to the purpose, freshness and safety of product packaging. They also make sure that the use-by dates are clearly indicated and that the product pages are set up as required.
These requirements vary from provider to provider. Your best bet is to research them on the website of the relevant e-food marketplace. To give you an example of what kind of specifications you can expect, we will show you what Amazon requires of food providers.
Packaging requirements
Amazon must ensure that the food products sold via its platform are safe. It does so through the following specifications:
Products are correctly packaged and sealed and are free of any damage
Packaging must comply with quality and safety standards
Packaging must also be intact when shipped
Clear information must be provided regarding net weight, use-by dates, dietary factors and food allergens
Product packaging must bear the name and address of the packaging company
These conditions must be met when packaging and shipping food products. These are mainly to ensure that the food arrives in good condition and does not constitute any kind of health risk. This is because Amazon is ultimately liable for any damage suffered by customers as a result of third-party sales.
This is important in the case of shelf life.
Amazon specifies that all perishable products that are sold via FBA must have a minimum shelf life (MSL) of more than 90 days.
As well as this, all perishable products that are within 50 days of their expiry date must be removed from the fulfillment centers.
Meltable products are only accepted in the fulfillment centers between October and April. They also need to be able to withstand a minimum temperature of 50 Fahrenheit (10 degrees Celsius).
Required listing information
You will also need to include certain things in the Amazon listing for food products. This concerns mostly nutritional and additional information but also includes product photos corresponding to the specified dimensions and content.
Shipping and labeling requirements
All shipments that are sent via the FBA warehouse must contain the following information:
Sender/owner's name and address
Name of recipient
Name of country, state or territory in which the content was grown
Declaration regarding shipping contents
Please bear in mind, however, that these are just Amazon's requirements. There may well be other conditions set by local and national authorities that need to be complied with.
As we have seen, the specifications are generally geared towards product quality and are relatively easy to fulfill. In meeting them, you will have taken the first major step towards being successful on e-food marketplaces.
Tip: Here's how to make a splash on e-food marketplaces
If you want to make the best of your e-food marketplace activities, here are a few best practices that will help you get more customers and stay successful:
Draw up variation lists for all of your food products.
This allows customers to discover other options within your brand – from different size packaging to different flavors.
Offer scaled prices.
This is a great way to get your customers to purchase several units at the same time rather than hoping that they will come back and buy another single element at some stage. If you can increase average shopping cart value, you will boost your sales in the long term.
Use the right pictures.
The right pictures can give your sales another significant boost. In many cases, lifestyle images and graphics showing the advantages or attributes of your product are particularly suitable. Nutritional benefits or unusual ingredients that make a good visual impact are always a good idea – and help customers to understand your product better.
Advertising increases your visibility.
Major marketplaces like Amazon, Kroger and Instacart all offer the option of placing advertisements. Use these to generate more traffic for your products. Advertising costs for food products are often relatively low. This means that you can use advertising efficiently to get more customers clicking on your food products and, in turn, to generate more purchases and revenue.
Reaching new heights in e-commerce with an ERP
To be a successful e-commerce player, you need to do more than just place your products on e-food marketplaces. You also need to use the kind of software that will automate your e-commerce processes and maximize the performance of your company.
A prime example of this is Xentral's ERP software.
ERP software is used to automate business processes and manage all key processes. The aim is to work more efficiently and to deploy resources – such as capital, employees, equipment and materials – as effectively and strategically as possible.
xentral is a lean, cloud-based ERP that is designed above all for start-ups and small and medium-sized companies (SMEs).
It is also geared in particular towards e-commerce companies, offering them functions for optimizing their performance in areas such as Sales, Logistics, Product, Financing & Controlling, Team & Project, and Interfaces & Extensions.
If you decide to automate your e-commerce now, you will benefit from the main functions to start with:
MultiChannel: Combine and manage all sales channels centrally, including online shops, marketplaces and physical stores
Automated orders: Process orders efficiently, automatically importing and comparing orders and reorders
Easy e-commerce controlling: Centralize the management of all incoming and outgoing invoices for your online shops and marketplaces, including having invoices preassigned and sent to your accounting department automatically
However, there are many other specific features that can help you keep track of things in your everyday e-commerce business. These include for example:
Real-time performance
All KPIs on a single dashboard
Your own CRM
Product information management (PIM)
Overview of shipping process, including visual representation
Completely automated ordering
Automated payment matching of orders
Managing batches, serial numbers and MSL
Logistics overview
Connect all shipping service providers
 

What if you already use other tools and don't want to lose the information and KPIs stored there? No problem – you can simply integrate them into the Xentral ERP. In fact, different tools can be integrated at over 1,600 touch points.
Many of these are geared towards e-commerce, for example:
Online shops like Shopify, Magento or WooCommerce
Marketplaces, e.g. Amazon, eBay, Kroger, etc.
Payment and shipping providers, like PayPal or DHL
Further options for integrating finance tools, fulfillment tools, etc.
 

With its automated processes, an ERP software makes your working day go like clockwork. At the same time, it allows you to work more efficiently, which will also be reflected in your bottom line. Selling your food products on e-food marketplaces will allow your sales to reach whole new heights!
Interested in finding out more about Xentral? Then take the Xentral test – and find out what experienced users have been saying about it.