Lizza: About lions, linseed and label workarounds
Food start-up Lizza was looking for a tool for clean processes and found an out-of-the-box experience.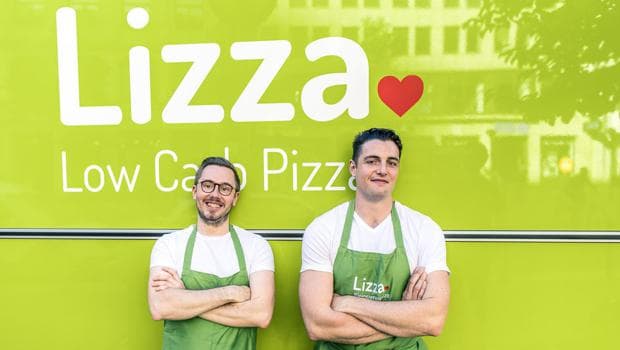 We let CEO Damian Werner tell us why Lizza pizza is the healthier alternative to the classic of Italian cuisine, what makes the food start-up's recipe for success and how the Lizza team keeps an eye on all e-commerce processes with Xentral.
⁠
⁠
⁠
⁠Table of contents
In search of the recipe for success: How it all began
⁠
Lizza is up and running - up and down the country
⁠
The Lion's Den brings opportunities - and chaos
⁠
What has improved for Lizza with Xentral?
⁠
Here's what's next for Lizza with Xentral

⁠
Lizza is only a few years old and yet the food start-up already looks back on an eventful company history. The young company has been creating low-carb versions of various food products since 2015. In 2016, things really took off when Lizza founders Matthias Kramer and Marc Schlegel presented a very special pizza dough on "Die Höhle der Löwen".
In search of the recipe for success: How it all began
Let's start at the beginning: Matthias and Marc are actually bankers, but didn't fancy a traditional career in finance. Instead, they set up their own business and developed a dating app. Customer satisfaction played a big role for them even back then, so they organised test parties to try out ideas and collect feedback.
⁠
⁠
⁠At one of these parties, Matthias, who has consciously chosen a low-carb diet, served up a flaxseed pizza - and no one was interested in the app ideas any more. Since there are no comparable products in the trade, the business idea for Lizza is born. "Lizza" is derived from "low-carb pizza". The pizza dough is based on linseed and is therefore gluten-free, vegan, organic and low in carbohydrates - but rich in proteins.
⁠
Lizza is on - up and down the country
At a street food market, Matthias and Marc present their idea and sharpen their target group - which is mainly people with gluten intolerance who cannot tolerate many conventional dishes and baked goods. With a DHL delivery van converted into a food truck, they travel to various festivals and learn more and more about the needs of their customers.
⁠
⁠The pizza base in particular attracts attention. Another important learning for the enterprising pizza makers: they are not born restaurateurs, which is why the growth opportunities are limited. However, the low-carb base of their pizza makes an ideal commodity. Without further ado, they transform the food truck into a bakery.
⁠
⁠In the summer of 2016, the flaxseed cowboys took over a former bakery, hired their first employees and opened a Shopify shop. Without any baking experience, they face the challenges and learn a lot. That's why they don't have to climb the next stage of their company's development with great difficulty, but instead travel it in a rocket.
Die Höhle der Löwen brings opportunities - and chaos
An appearance on Die Höhle der Löwen brings Matthias and Marc the greatest possible attention in the shortest possible time: 3.1 million viewers watch them snatch the coveted deal and inspire two investors at once - Frank Thelen and Carsten Maschmeyer offer the founders a deal as a duo.

The appearance not only brought the channel record ratings, but also the Lizza online shop: 15,000 orders are received on the evening of the broadcast alone. The following years are similarly eventful: rapid growth, a million-dollar exit by the founders, a team growth to 55 employees and new sales markets characterise the development of Lizza. In addition to pizza dough, fans of conscious nutrition can now also find pasta, toasts, rolls and baking mixes in the start-up's shop as low-carb variants.
Error-prone workarounds lead Lizza to Xentral
Xentral plays an important role in Lizza's story. Damian Werner, IT specialist and then operations manager of the food start-up, discovered the business operations software from Augsburg back in 2017. However, his team was not yet ready for a new business tool, as myFactory had just been introduced in sales to create invoices and delivery notes.
Nevertheless, Damian is curious and asks around. In a call with other start-ups from the food sector that use Xentral, he is told about experiences and looks at how Xentral performs operationally at a food start-up on site. In September 2018, he will discuss with Xentral founder Benedikt how the tool can help his business.
⁠
⁠This is also necessary: in the meantime, Lizza's tech stack is showing weaknesses. Two of the problems that need to be solved are the connection between online shop and warehousing and the creation of DHL labels. Before Xentral, Damian exported labels from Shopify, imported them into DHL, downloaded them as PDFs and labelled them with a workaround. The DHL label then served as a pick list for shipping. Damian had artfully automated the process using Google Sheets scripts. But you can imagine that errors were inevitable.

⁠As the range grew and with it the product variants, it was foreseeable: Growth was impossible with the previous setup. The final decision for Xentral was quickly made when Benedikt managed to connect Xentral to Shopify and create clean labels in just half an hour.

⁠
What has improved for Lizza with Xentral?
Within three months, Xentral was up and running, including stock management. On 1 January 2019, the new setup went live. Sales continued to run on myFactory for a few more months and then in the summer the production module of Xentral was introduced. Today, Business Operations have moved completely to Xentral. This has brought about improvements in several areas.

⁠
Professionally networked processes instead of professionalised workarounds
Before Xentral, Damian and his team worked with "professionalised workarounds" in Google Sheets. Post-its were used for dispatch planning. "It was all fast, it worked, but it was shaky. Xentral brought stability and scalability to our processes," the operations manager describes the before-and-after scenario.
⁠
⁠"Xentral has allowed us to map and network all the previous workarounds into one system," says Damian. The e-commerce tasks worked from one day to the next after implementing Xentral. For Damian, Xentral is therefore like an "out of the box experience".
"Xentral is an out of the box experience." – Damian from Lizza

⁠
Setting the stage for growth
Unlike other Xentral users, Lizza didn't achieve major time savings by adopting the business operations software - but everything that now runs through Xentral has become capable of growth. If Lizza had doubled production without Xentral, the move would have been much more complex and expensive - and would have cost Damian his last nerve.
⁠
⁠Xentral has also had a positive impact on the shipping volume: before the introduction, the average rate was 30,000 e-commerce packages per year - now it is 80,000.
⁠
Compliance challenges easily overcome
Following the Xentral introduction, Lizza has achieved certification according to the IFS Food Standard version 7. Among other things, this means that all legal requirements regarding food safety, legality and quality are demonstrably guaranteed in production. The food start-up is thus so highly certified that it would theoretically be allowed to sell baby food, which is particularly strictly monitored.
⁠
⁠"With Xentral, we can be compliant," Damian emphasises. This is also particularly important in Lizza's case: other food start-ups have their own brand, but production and thus certification and compliance challenges are taken on by partners. Lizza, on the other hand, is a food producer with its own production and brand and therefore bears the entire responsibility alone. 
⁠
"With Xentral, we can be compliant." – Damian from Lizza

⁠
Here's what's next for Lizza with Xentral
Lizza currently operates three Shopify shops, one each in the UK, the EU and Germany. Amazon and its own fulfilment are also connected. The field sales team uses a CRM and the accounting department works with the DATEV export from Xentral.
⁠
⁠For the future, it is planned to push ahead with internationalisation even more, especially in England. A local partner has already been found and the shipping department will be connected to Xentral. In order to be more broadly positioned on the European market, the labels for the products will be translated. There are also plans to connect EDI with Procuros.
⁠
⁠With Xentral as a basis for further growth and future plans, Lizza is optimally positioned. We are excited to see how the story continues that started with bankers baking pizzas.
If you're ready to improve your business operations, try Xentral for 14 days or schedule a demo call. Get started now!
Profile: Lizza GmbH
Founded 

2015

Website

Xentral-Impact 

Processes capable of growth
Before Xentral: 30,000 e-commerce packages per year, now: 80,000
Stability in the processes